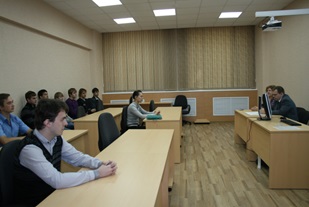 On the 27th of September, an introductory tour of RPA 'Mars' was organized for students of the Chair 'Information and Communications Technologies and Radio-Electronic Means' which had been established within the Ulyanovsk State Technical University. Actually, the students are majoring in their special subject at the University, but they will attend courses at the Company next year. The tour began from the training class, where Eduard D. Pavlygin, First Deputy Director General for Science, Olga V. Mikhaylova, Head of Human-Resource Department, and Gennady P. Tokmakov, main specialist and main research officer, greeted the students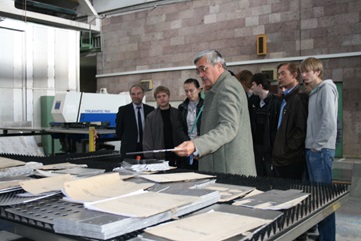 The students were shown the history of RPA 'Mars' in the Company museum. The photos of the Company's first products, especially, 'Tucha' R&D work product, which was placed on 2 trailers, were of great interest. The visitors examined with interest the prototypes of the modern systems and the photos of their creators.
After that, the guests directed to the production complexes where they were shown the complete cycle of a product manufacture: from the metal cutting to the whole PCB or module production. In the Laboratory of Trials and Metrology, they saw the test benches where RPA 'Mars' products are tested. The boys regarded curiously the Integrated Bridge Control System.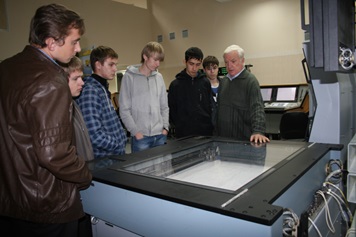 It should be noted that the students of the Company Chair are very conscientious, intelligent and curious which is proven by a sequence of questions posed to the guides. Hopefully, their enthusiasm will not go out from their eyes, and they will contribute to the further progress of FRPC OJSC 'RPA 'Mars'.