| | |
| --- | --- |
| Welcome to the International Air Transport Forum | 24.08.2012 |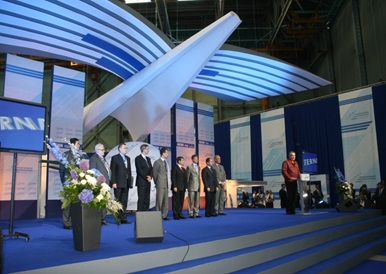 On the 23d of August, the International Air Transport Forum II 'IATF-2012' took place at the premises of airport 'Ulyanovsk-Vostochny' with the assistance of the Federation Council of the Federal Assembly, Ministry of Industry and Trade, and Ministry of Transport of the Russian Federation. The Forum will last till the 25th of August. The event was organized by the Government of the Ulyanovsk region.
The Forum is included in the official program of the Ministry of the Foreign Affairs within Project 'Sister-Cities' of Russia and Germany (2012-2013). The inauguration of the Forum was attended by Dmitry Rogozin, Deputy Chairman of the Government of Russia, Maksim Sokolov, Minister of Transport of Russia, Mikhail Babich, authorized representative of the President of the Russian Federation at Volga Federal District, and many other distinguished guests.
Partners of the 'IATF-2012' are: JSC 'United Aircraft Corporation', 'Volga-Dnepr' Group, 'Gazpromneft-Aero', 'Vneshaviakosmos', JSC 'Aviasalon', 'ExpoLine', Industrial Agency 'AviaPort', Council of the Russian Economy in Germany.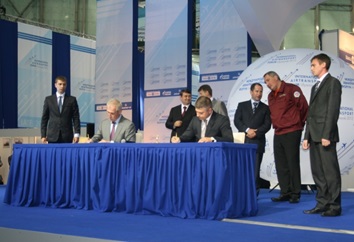 The 'IATF' became the second large regular event for the national aviation equally with the International Aviation and Space Salon (MAKS) in Zhukovsky city. After the first Forum took place in Ulyanovsk city in April 2011, the directorates of two events concluded a partner agreement to coordinate the periods for aviation forums from 2012: IATF – even years, and MAKS – odd ones. The scope of the 'IATF-2012' Program will encompass the International Congress and Exhibition, All-Russia Forum of Small Aircraft, the Youth Air Forum 'I am Aviator', air sport competitions, air show with participation of aerobatic teams, etc. This year foreign pilots 'Baltic Bees' will for the first time take part in the show. It will be really a spectacular event.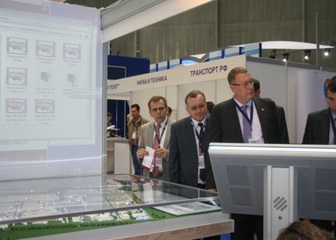 Georgy V. Antsev, General Director – Chief Designer of JSC 'Concern 'Morinformsystem-Agat', arrived in Ulyanovsk to attend the events mentioned above. Actually, he and Vladimir A. Maklaev, Director General of FRPC OJSC 'RPA 'Mars', are preparing for signing of the agreement with the Government of the Ulyanovsk region.
Colleagues! The 'IATF-2012' Air Show opens its doors to visitors at 'Vostochny' airport premises from 10 a.m. till 3 p.m. on the 25th of August. At the same time with the aerobatic demonstrations, there will be an aircraft exhibition of world's top manufacturing producers, and a gala concert with Niusha, popular singer. The Air Show admission is free on the 25th of August.