| | |
| --- | --- |
| Children Are the Lights of Our Lives! | 22.06.2012 |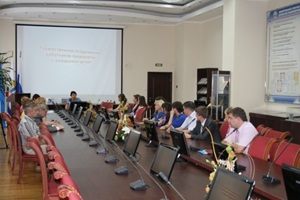 On the 22d of March, a solemn registration of newborns of RPA 'Mars' specialists took place in the Company session hall.
On behalf of the Company management and the trade union organization, Larisa V. Moskalenko, Deputy Director General for Human-Resource Management and Chairwoman of the Trade Union, attended the session hall. In the greeting speech, Larisa Vasilyevna told about a whole set of social programs in support of motherhood and children that are being embedded in our Company. Besides, she noted that our specialists have more children each year: they were 45 in 2010, 59 - in 2011, and during the first six months of 2012, they have been already been 21 children. It means that the social orientation of the Company and of the regional authorities is bearing fruit. We have among our staff those who have participated in 'Give Birth to a Patriot in Russia Day' action.
Larisa V. Moskalenko noted that the social orientation of the management policy shall be supported by achievements of our staff in manufacturing process and in developing new products, which are in demand in the market.
After the solemn greetings, the parents of newborns or their representatives were given souvenirs of the Trade Union Committee.