Control plotter for ship officers 200.X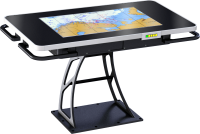 Purpose The device is designated for automatic plotting, computing, displaying, and recording coordinates for the object position on marine electronic charts and plans.
Basic functionsand technical characterictics:
- The device ensures:

- information output on the built-in LCD display for group automation task solution;
- high-performance computing using CUDA GPU;
- data input and task solution control using multi-touch screen (more than 10 points of contact with the surface);
- receiving and transmitting information using two GbEthernet channels
- touch screen lock for using a horizontal surface as a desk.
- The device construction allows:

- to use it without a frame for placing the plotter on a horizontal surface to work in both standing and sitting positions;
- to use the top of the plotter as a desk (because of a flat horizontal surface of the interactive table with a possibility of touch screen lock);
- to place additional programmable functional RGB keys on the device lateral surface;
- to service efficiently because of easily detachable covers and cases.
| | |
| --- | --- |
| Parameter | value |
| OS | Windows, Linux |
| CPU Type | Intel Core i7/ NVIDIA Tegra K1 |
| SSD capacity, Gb, no less than | 128 |
| Screen Parameters: | |
| - Screen size | 46 inch/117 cm |
| - resolution | 1920х1080 pixels |
| - brightness | 700 cd/m2 |
| - contrast ratio | 400:1 |
| External Interfaces: | |
| - Ethernet 10/100/1000 Base-T | 2 |
| – USB 2.0/3.0 | 3 |
| – RS-232 | 1 |
| – RS-422/485 | 2 |
| Power Requirements: | |
| - supply voltage | 220/50 V/Hz |
| - power consumption | 350 W |
| Device dimensions (WxHxD) | 1700 х 1000 х 950 mm |
| Device weight | Not more than 130 kg |